The Modern Classic | A Scrapper's Style Interview with Krista Sahlin of Sahlin Studio
Hi Krista and welcome to Simply Tiffany Studios! Tell us a bit about you and your digital crafting.
I am a digital scrapbook designer for Sahlin Studio, a wife and a mother of two kiddos, Gabe and Sophie. My love of scrapbooking came pretty early; I have been scrapbooking since high school. I found digi in 2007, but I don't think anyone called it digital scrapbooking back then. I laugh when I think how I scrapbooked using Microsoft PowerPoint software. Things have come a long way since then!
PowerPoint? Wow! Tell us about your style. How would you classify it?
My design style is: modern, classic, vintage design.  I know that is sort of an oxymoron, being that these words are opposite styles of each other.  LOL! But I love to take the modern aspect along with vintage and eclectic pieces, to create a traditional and timeless design.
My personal scrapbooking style is: traditional, realistic, paper-styled design. Coming from a paper scrapbooking background, I seem to gravitate towards this look in my digital scrapbooking pages. I love creating realistic looking pages, both with the paper pieces, and arranging the photographs.
Now that's interesting and something we hadn't considered on  Scrapper's Style. You have a unique product design style AND a digital page design style. But your page style works with the types of products you create, yes?
Yes! Since I am a designer, I create products based on my own scrapbooking needs. So for the most part, I scrap using my own designs.
Do you attempt to step outside of your style comfort zone? And has your style evolved over time?
Absolutely. That is the great thing about this hobby is that you can be creative and try many different styles and skills. Challenges and/or templates can be a great way to have you do this. I just love the process of being creative.
Here is one of my older layouts:
What is your unique calling card?
The most important thing on my pages is the photographs, so I usually scrap with both large & multiple photographs. Rarely will you see me following  the "on-trend" pages using small photos.
I dig that! Your pages almost always feature multiple photographs, which match your traditional, paper-styled pages. Matter-of-fact, I'd say that's one of the classic characteristics of the traditional style.
How long does it takes for you to complete a page?
Creating a scrapbook layout doesn't take me that long. On average, my layouts take about 15 – 20 minutes from start to finish. But where I spend the bulk of the time is on the photo processing. Not because I am overly worried about it, but more maybe because my photography skills are bad? HAHA!!! My photo editing process can take up to 30 minutes. Hmm … I probably should evaluate this.
*Tiffany recovers from hysterical laughter*
Photo processing definitely takes time, but I like my photos to shine too! To me, my layouts look better when the photos look better.
So you rock your digital designs but do you use any other designer products?
The products that I love and collect are from designers that have a completely different overall design style from my own, like Anna Aspnes and Pasilee Press. I love having their designs in my eclectic digi stash.
How cool! Anna and Liz have both offered their Scrapper Style thoughts with us too.
And who inspires you as a page designer?
One of my favorite scrapbookers is Britt, also known as designerbrittney. I could gawk at the detail of her layouts for a long time. She has such skill with layering, and using multi-photos. It would be fun to look at her finished scrapbooks.
Thanks for sharing your work with us. Before we wrap it up, care to share any tips with scrapbookers who admire your style?
Focus on the photos! I start by putting ALL of the photos right on my 12 x 12 canvas. Then I create the shapes or boxes that would work for these photos, so I can clip the photos to the shapes. This is the time to play a bit, move them around on your page, play around with placement, create paper strips shapes, and find out how they naturally look on your page. At this point, my page looks similar to a template… so I 'fill in the template' and embellish. It is a fast technique to be sure you are keeping the focus on those beautiful photographs.
It's been a pleasure peeking into your digi-mind and understanding your style. On behalf of the digital community, thank you!
You can see more of Krista's work at her My Scrapbook Art gallery, grab oodles of freebies at Sahlin Studio and keep in touch with her on Facebook. Krista also invites you to download a FULL free kit by signing up for her newsletter. Click on the image below to grab it now!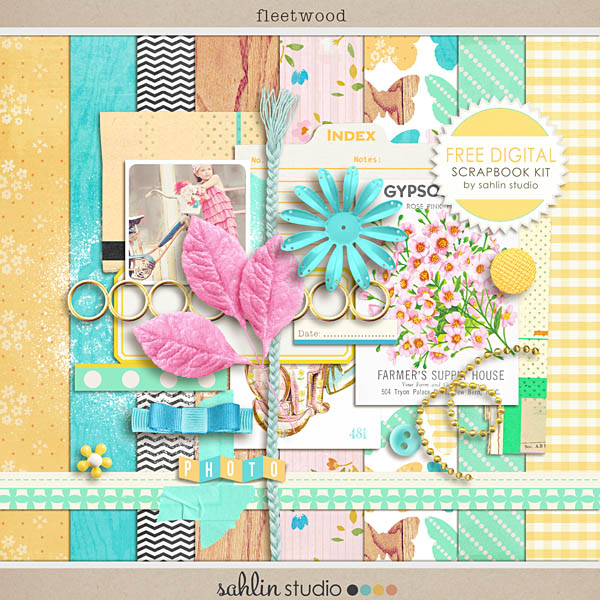 About this Interview
Scrapper's Style interviews are an extension of Scrapper's Style | the eBook, which helps digital crafters identify their own, unique style and ultimately build better scrapbook pages. With proven strategies for digital scrapbookers, the book offers in-depth tips for linear, layered, and artistic layouts. Check back here every Monday for a new Scrapper's Style Interview.